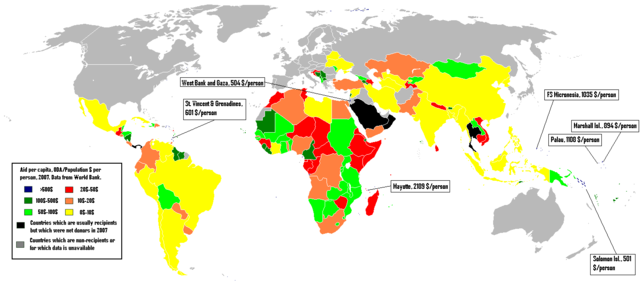 If you are looking to begin (or further) a career in foreign aid and development, your own government may be the place to start looking for employment. Some countries offer a long list of opportunities while others rarely have jobs available but the field is competitive no matter what the current situation is. If you can do it, volunteer work within the agency can help you to get on the ladder but you will still need skills behind you if you want to be a good candidate for any work, be it volunteer or paid. Check out the job listings to get an idea of the kinds of work your country's agency is involved in and what skills sets are in demand, then weigh those up with the areas you have an interest in. Always bear in mind that projects change over time, but if you are a new graduate or thinking of studying for the field you should be able to glean some useful information through looking at trends in job postings and also by observing how the agency is set out and what departments they have.
This list is not all encompassing so if your country is not here and you can add your local agency in the comments to help others, please do. Also, don't forget that there are other governmental bodies who may be potential employers, particularly for aid work, such as the police and military if that kind of organisation suits you.
Quick links to governmental aid and development agencies
Australia
Canada
Job pages (a general Public Service Commission website)
Volunteering (includes youth volunteerism)
New Zealand
Job pages (a general Ministry of Foreign Affairs and trade website)
South Africa
The NDA (National Development Agency) and, more usually, the South African governmental departments at national, provincial and local level, are the best places to begin a search. Job pages here
The National Development Plan for important background reading
Disaster management: NDMC and DMISA
Note: The government does not currently have a large engagement in international development work (outside of S.A.) but there are ways to get involved either through security forces or NGOs.*
United Kingdom
Department for International Development
Job pages (Civil Service website)
Other ways to get involved (includes volunteering)
United States
LinkedIn Group for recruitment
Other ways to get involved (includes volunteering)
Follow this link to an interview with Carola, who has worked with AusAID in Bangladesh. If you have worked for your government's aid and development agency we would love to hear your story. Please get in touch in the comments or on the Facebook page.
*A big thanks to Claire Hawkridge who generously filled in my lack of knowledge on the South African situation for this list.
Read more: