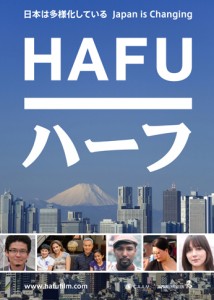 It's great to see multi-cultural families in the press in a positive light and it seems to be happening more and more but there is still a need for education. Because of this I always take note when I hear of  new documentaries that highlight what it is like to be a third culture child or a person of mixed-race heritage. Hafu is a film about the experiences of mixed race people in Japan. The title , ハーフ (Hafu or 'Half'), comes from the word most often used to describe a bi-racial Japanese person. Although there have always been foreigners in Japan, it is only in recent times that non-ethnic Japanese people have made up much of the population of Japan, but this is changing in a big way. One in forty-nine babies born in Japan today are said to have one non-Japanese parent. This video explains in more detail.
日本は多様化している Japan is changing from Hafu Film on Vimeo.
The film, Hafu, sets out the stories of five people and explores the experiences of each. Some live in Japan, some do not, and some are coming to Japan to find their roots. It will be fascinating to those of us in multicultural families, third culture kids and also anyone with a connection to Japan. The first screenings have been happening in California to wide acclaim and, hopefully the screenings will spread. In fact, they would really like to find organisers for further screenings and, if you are keen, check the webpage or get in touch via the film's Facebook Page.
If you describe yourself as a hafu or are a third culture kid who would be willing to tell your story, please get in touch via the comments or our Facebook Page.
Read more: