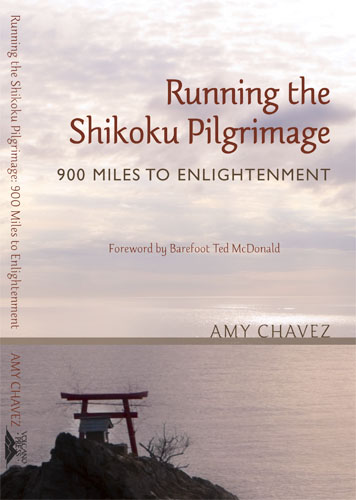 There are believed to be about 1,000 people who walk (and many more who drive) around 88 Temples in order to complete the Shikoku Pilgrimage in Japan each year. Recently, some of those pilgrims will have been left wondering what had swooped past them as they were left in the dust by Amy Chavez, a long-time resident of Japan, who decided it would be much more interesting to run the pilgrimage. While Amy is a regular columnist for publications such as the Japan Times and The Huffington Post, the story I really wanted to know was about how and why she'd decided to run the pilgrimage. Just incidentally, she now has a book about about the journey which I'm about to read, but I couldn't wait. Luckily for us, she was open to questioning and she even let me interrupt her holiday in South East Asia with some nosey emails. This is what I found out.
You've just published a book on your experience in running the Shikoku 88 Temple Pilgrimage. Can you give us a brief idea of what that is and why you decided to run it?
I had always wanted to do the Shikoku Pilgrimage ever since I heard about it when I first came to Japan in 1994. There are, of course, many ways to do the journey. If you do it on foot, it takes 5-6 weeks to complete. By bicycle, you'll need about 10 days. You can also visit the temples by bus or car. To cover all 88 temples, it will take at least a week, even by car. Most foreigners are interested in walking it. It's a great physical challenge as well as an opportunity to feel the countryside and Japan's ancient culture. You'll miss a lot of that if you do the pilgrimage by car. Nonetheless, for expats living in Japan, it can be difficult, if not impossible, to get such a long time off work to walk it. This is also why Japanese people tend to drive it and do it parts of the pilgrimage over many weekends. It can take them years to complete the pilgrimage just once via this method, but the important thing is that you complete it, no matter how long it takes you. Indeed, it can be a life-long endeavor for those living further away from Shikoku in Tokyo or further north. Why did I run it? At first, I only considered walking it but as I really wanted to push my limits and do something no one else had ever done before, running it seemed far more interesting.
Were you a runner before you decided to do this?
I've always run. I had never run such long distances before, and had never run in a marathon before, but I was a recreational runner.
Did you go alone?
I couldn't find anyone to go with me and certainly no one who would have appreciated running it. But I've always travelled alone, mainly because I could never [find] others who wanted to do the same things I did.
How long did it take?
It took me 5 weeks, running 5 days a week, almost a marathon a day (and sometimes much further than a marathon). My distance was mostly dictated by the condition of my feet and other parts of my body. I was forced to take off two days a week for body recovery. The thing is, on the pilgrimage, you have no control over where (flat vs. mountainous) or what surface (trails vs. pavement) that you'll be running each day, so you have to take what comes and adjust accordingly.
Did you wear the traditional white clothing and sedge hat of the 88 Temple Pilgrims?
I did wear white, but only on top. I had to run in jogging pants because of chafing. In place of the sedge hat, I wore a baseball cap. I also carried the traditional Buddhist bag over one shoulder and sutra books and prayer beads. I was quite a sight!
Did anything funny happen along the way?
I found myself making udon noodle deliveries one morning. That was pretty unexpected, but the guy who offered me accommodation in his house the night before owned an udon factory. So he invited me to help him make deliveries in the morning. How could I refuse?!
Is there anything you learned about yourself from the experience?
I learned that an experience like this can change your life. I know this is a cliché but it's impossible to explain in a sentence or two. The book is about how this transformation happens and how it can happen for anyone. Enlightenment brings on change. Even the term enlightenment has many meanings, depending on a person's goals. But it is attainable. And you don't have to be Buddhist to attain enlightenment. I've read a lot of books that explain enlightenment through lightness, auras or glowing. But I think this is a bit of a cop-out. Yes, enlightenment is hard to explain, but it doesn't have to be so esoteric. You don't have to dress up like a hippie, buy crystals, succumb to feng shui. You don't even have to look cool to find enlightenment. The goal of my book is to explain the path to enlightenment in concrete terms.
Can you tell us what we'd need or need to do in order to do the 88 Temples either walking or running?
The main barrier to doing the pilgrimage is cost. If you're walking it, you're looking at anywhere from 4,000 yen per night (lodging, no meals) to 7,000 yen per night (with dinner and breakfast) to stay in accommodation along the way. At 40 nights, that's 160,000 to 280,000 yen. Accommodation is plentiful, but most people who walk it will spend at least a few nights sleeping outside to help cut costs. There are a few pilgrims' lodges along that operate on donations, but there aren't many. Some people take tents, and there are campgrounds along the way, but they can be far off the pilgrimage path, adding unnecessary distance to a route that is already long enough at over 1,000 kilometers.
These days, there are roadside huts and even modern bus stops that are acceptable places for pilgrims to sleep for the night. Sometimes there'll even be a bedroll underneath the bench just for pilgrims. Other recent improvements include handrails and concrete steps on some of the steeper parts of the trails to make it more accessible to the elderly and um, less fit.
You can buy everything you need for the pilgrimage regarding prayer beads, sutra books, and pilgrimage outfits at Temple No. 1. How to use these are covered in my book. You'll also need a good walking map. You can get that at Temple No. 1 too.
Femina Intrepida is aiming to be a place where women who have learned something or gained or used a skill can share it with others. Is there anything you can pass on to us from your experience?
I firmly believe that by pushing your limits, you learn. We can either stay in our comfortable warm and fuzzy worlds, or we can venture into the unknown. The unknown is where things happen. This is where we can make a difference in other peoples' lives. Perhaps the biggest misconception in the Western world is that life is all about you. It's not. It's about everyone else.
Thanks so much for your time, Amy!
Amy's book "Running the Shikoku Pilgrimage" is published by Volcano Press and you can buy it on their website or at Amazon, electronically and paper-ly.
Read more: